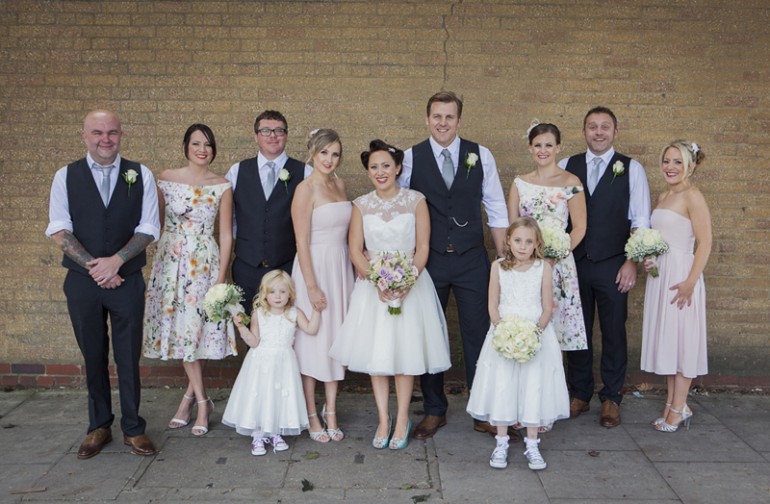 I was quite excited, first time stepping out as a wedding photographer in Camden for Lynsey and Scott's wedding at The Prince Albert pub. Sounded great fun ! I think I felt 'married' to the pub back in my misspent youth ?! But this was very different…..the pub here providing an excellent atmospheric setting (but not the main love of Scott's life!).
Lynsey and the girls were getting ready in a flat above the pub. All was pretty focused with practicing the walks down the aisle, creating a sentimental rap, applying the slap, drinking the bubbly, getting the vintage look together etc……Scott and the boys meanwhile were downstairs in the pub looking dapper in waistcoats and also sober. The pub had a rule of not serving until after the ceremony, as too many weddings never actually happened, due to guests being too busy getting mashed.
The ceremony was lovely and quite cosy with sunlight streaming in through the coloured pub windows. The necessary words were exchanged, rings slipped on fingers, a tear here and a sniff there and our happy couple were wed – yeah !! Now the bar did open for serious celebrations with guests spilling outside to enjoy the sun. I took Lynsey & Scott off for a photo walkabout by the canal, and bridge. It was great – cars tooted their horns and people waved and cheered at our young couple as they wandered the streets of Camden.
A fabulous dinner upstairs was enjoyed by all. Followed by some silly photos with props and a frame, and after a few rounds of the traditional drinking game of pub ping pong, the party atmosphere was building up nicely! Music on the air, and Scott took Lynsey for the first dance, quickly followed by a close packed throng of guests getting on down – cue cockney rhymes…..cor blimey…."oh knees up mother Brown…!!". Now it was time for that 'kitchen sink' – I only had to turn to my right to order a pint of fine ale – superb. A lovely fun day with vintage twist.
see their whole day click here
To hear how I can help with your wedding day at The Prince Albert in Camden, please don't hesitate to get in touch
0